Almond Benefits For Skin & Almond Recipe For Skin Whitening,Face Masks,Facial Cleanser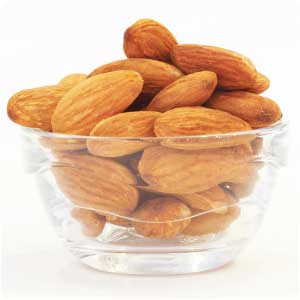 Nutritious and good for your skin.  Almonds are actually seeds we eat from an almond tree. Almonds are an outstanding source of vitamin E, fiber and magnesium.  Eating almonds has been shown to increase energy levels, soften your skin, and help reduce food cravings.
Almond Skin Whitening
Almonds have been used for centuries to give a youthful radience and glow to dull and damaged skin. In fact it cleanses the skin deeply,rejuvinates and improves the complexion. It is a part of many at home skin whitening recipes, like facial cleanser, scrub and homemade face packs.
Homemade face pack
All You Need;
5 Almonds , 2 tsp milk ,1 cup water ,1 tsp rose water ,Few drops almond oil
1 tsp glycerine (optional for dry skin).
Soak almond over night in water. In the morning peel off and grind well with milk and other ingredients to make a paste. Apply this face pack over thoroughly cleansed face for almost twenty minutes or until it dries away.Now gently rub your skin in upward direction to remove the mask. Wash with cold water.This mask soothes,softens and cleanses your skin. Use it three times a week to get a glowing complexion and flawless skin.
For best results also add daily application of sweet almond oil before going to bed to your skin care regimen.
Homemade Face Masks
Skin care treatments with almonds including easy recipes for natural face cleanser, homemade facial masks and exfoliate scrubs to give you beautiful fair complexion and soft smooth skin. almonds have maintained a significant importance regarding its health benefits. The most common health benefits associated with almonds include heart healthy life, improved movement of food through the colon and the prevention of cancer. In Asian countries almond has always been considered a nutritive for brain and nervous system. As far as our skin is concerned, almonds consumption is believed to improve complexion and delay aging. Beside oral intake, women have been using almond oil and almond powder as a part of their face skin care regimen for centuries. There are numerous recipes for natural skin care where almonds act as the main component.
Honey and Almond Face Mask
Take warm honey (1 tbsp) and grated almonds (1 tbsp), mix well using some water. Immediately apply the mask to a cleansed face and rest for ten to fifteen minutes. Finally, was off the mask with water and apply a toner and moisturizer. This is a wonderful skin care mask, and worth the effort. The honey and almond moisturizing face mask is particularly good for mature, sensitive, or dry skin, but is suitable for all skin types
Almond Facial Cleanser
This is a very easy recipe for cleansing your skin naturally and thoroughly. Grind some almonds to form a slightly coarse powder. Put it in a glass bottle and store in a refrigerator. To cleanse your face and body add some water to form a somewhat thick paste. Rub it smoothly over your skin and let it stay for five minutes, now rinse with water to get soft and supple skin. This skin treatment removes away any dirt, impurities or dead skin cells and helps to improve skin texture as well as complexion.
Almond and Milk Facial Cleanser
Again the recipe is easy and quick. Just add some dry milk powder to almond powder and make a paste by adding water. You can also add fresh milk instead of milk powder but keep the paste thick. Apply on your face neck and hands, then rub gently for five minutes and rinse with cold water.
Homemade Facial Masks with Almonds: