Make Yourself Look Thin & Pick the right clothing to make you appear leaner
So you want to look a bit thinner this weekend for that special occasion? No time to get on that diet you had in mind, more immediate action is in order. Lets explore what might work and what will probably not work.If you are thinking about wearing a size or two larger than your actual size, think again. By doing so you may hide a tummy with a few too many inches, but at the same time you might just be making yourself look all that much larger. Not good. The bigger cloths trick really backfires most of the time. Likewise, wearing cloths a bit small can have equally bad results. In the case of cloths too small, they may be too tight and show off some lines you would rather not show off.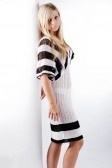 Okay, but what works? The first and foremost thing to do is, drum roll please, be confident and poised. All the tricks and tips listed below can help, but the thing that will help the most is simply holding yourself in a confident light. Trust me on this one, you will look much better with self confidence and composure. If you look composed, you will appear more in control, look better, and in turn look thinner too.
Now some tips and tricks to look thinner.
Slightly bending the rule above, if you have thighs a bit thick, try wearing just slightly larger top and streamlined pants. Not much larger, just a tad, just a tad.
Wear cloths of solid color or try something with some strips that go lengthwise. Avoid cloths that have any stripping or accents that are horizontal. They will serve to accentuate in the wrong way.
Try to avoid cloths that bunch up creating points that stick out beyond your body lines. The idea is to have smooth lines without clinging too tight. If clothes bunch up and stick out too far they will make you appear larger.
Try wearing some higher heels, that will firm up and shape your legs in a more favorable way. They will help make you look taller and thinner.
Tops that are either boatneck or accessories around the neck will help to draw eyes upward. Your smile will help here too. Smile, confidence, it works.
Avoid clingy cloths. Well shaped and fitting, yet light cloths are your best friend, they will do wonders.
Likewise, avoid baggy pants or tops, they will make you look larger than you are and might add some pounds to your appearance.
No outfit is going to take 20 pounds off your hips, but choosing the right clothing that fits properly can go a long way to slimming your look. If clothes are too tight, all the bulges, rolls, dimples, or any other flaw you may have will show through.
you are very tall, you can wear a longer skirt that will elongate the look of your body and thus make you appear leaner. If you are shorter, a longer skirt might make you appear even shorter, but a skirt that falls right below the knee will help you appear a bit taller and leaner. Avoid ankle length skirts if you are short and avoid above the knee skirts if you are tall.
Optical illusion patterns, diagonal stripes, zig zags and the like can fool the eye and detract from problem areas. However, avoid horizontal and vertical stripes because these both can cause you to appear heavier
A V-neck outfit can help draw attention away from the middle area, thus slimming your entire appearance, while a V-line waist on a skirt or dress can really help reduce the appearance of bulk at the waist and top of the hips.
If you have larger hips and thighs, when you wear pants, you do not want to wear the slim ankle or flare cut pant legs. The best cut for slimming is the boot-cut pant leg, because this will give a more symmetrical appearance and thus make you appear thinner.
Avoid bulky scarves and belts around the waist, especially if your problem area includes your hips and waist.
Avoid bulky jewelry, especially around the neckline. However, at the same time, if you are a larger women wearing very small pieces of jewelry, this can add to the illusion you are bigger than you really are. Pick jewelry appropriate to your size, without a lot of bulk.
Where it's darts in shirts, pleated pants or skirts, pleats will pull when moving and if you have a bit of extra weight, they will not help accentuate your best features. This is especially true of your stomach area when wearing skirts or pants – avoid pleats.